Whitepaper
Intelligent Automation: 6 AI Applications That Are Changing Industry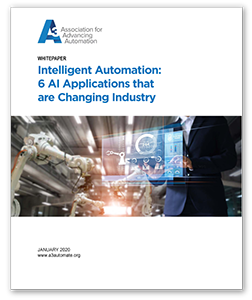 Magic and hype: Two words that are frequently applied to artificial intelligence.
Today, solutions leveraging the power of artificial intelligence are already paying off in robotics, automation, and manufacturing. AI is powering predictive systems, increasing the capabilities of robots, improving the precision of machine vision, and helping businesses optimize their processes to improve quality and reduce waste.
This Association for Advancing Automation (A3) whitepaper will examine six application spaces where AI is already taking hold in automation and manufacturing. We will discuss how the technology is making a difference and what you should consider in your enterprise's AI journey.