Thought Leaders in Automation
Leading The Way In Innovation
Learn from expert industry professionals and read their insight into
the growth and opportunities in automation.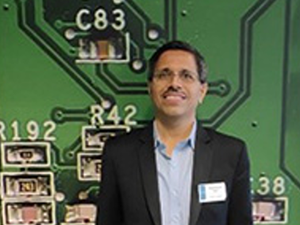 Hemachandra Bhat
Global Robotics Head
Wipro Limited
Hemachandra Bhat has over 30 years of industry experience. He has designed many products that are in production. They include computer systems, Integrated Circuits, Embedded Systems and AI systems for consumer, automotive and industrial applications. Some of the products he has designed have gone into high-end cars from Mercedes, Ford. He was part of the engineering team of one of the startups funded by Wipro called EnThink. He has delivered projects and programs for customers across geographies that include USA, Japan, Europe, APAC and India. He is heading the Robotics practice in Wipro Limited currently. In this role, he is responsible for strategizing and implementing the growth for the practice. His responsibilities include solution development, business acquisition and partnerships in Robotics. He has been instrumental in setting up industrial robotics practice in Wipro Limited. He has a Master's Degree in Software Systems from BITS Pilani. He has two patents granted and 1 patent pending.

QUESTION
There's been a shift in how robotics is used, and we'd love to hear your take on how robots have moved from primarily a tool for big companies in automotive and electronics to products that are used by companies of all sizes and virtually every industry.
ANSWER
Robots are becoming all pervasive across human lives across homes and offices. COVID has accelerated this proliferation into areas that were not using robots traditionally. For example robots are making big strides into logistics and warehousing. We have observed significant uptake in our RFQs and enquiries in this area. Mobile Robots are helping in the transportation for inbound and outbound operations whereas Robotic arms are helping in reconfiguration with their manipulation capabilities. With advances in Computer Vision many of these tasks which had lot of variability. In COVID situation many hospitals are experimenting and deploying robots to reduce close interaction between hospital staff and patients. We had worked with one of the hospitals who wanted to reduce human intervention in COVID wards by deploying mobile robots. This will reduce the risk of virus spread to the hospital staff and then to the community. Robots have invaded personal spaces also in the form of cleaning robots and more intelligent personal companions for kids.
QUESTION
The COVID-19 pandemic has revealed many vulnerabilities in areas such as supply chain, business operations, manufacturing processes, etc. What are the most important lessons you've learned that will help your company be better prepared for future pandemics?
ANSWER
The most important lesson has been that the connected automation is the only way forward. This has been proven with multiple waves of COVID separated by a lull in between. We have been focusing on how can we manage/ commission the physical automation remotely with very minimal staff in the factory or warehouse. We had started working on this even before COVID and accelerated the development of such solution during COVID. We also enabled most of the 3D/2D design and simulation tools on cloud so that the engineers can work from home and still be able to meet their commitments.
QUESTION
During the last 20 years, manufacturing companies have seen a 25 percent improvement in productivity as a result of automation. This has caused a recalibration in the tasks of the workforce. How does this benefit not only the company, but also the worker? Also, what other changes do you see coming to the workforce?
ANSWER
Most of the dull, dirty and dangerous jobs are now being done by Robots. We will still need employees who understand the shop floor operation in designing, implementing and managing the automation. This change in work pattern addresses the concerns of Employee Health & Safety (EHS) at the same time not taking away the jobs from employee perspective. From management perspective the productivity will increase significantly while maintaining the high quality levels consistently. A properly planned and deployed automation is always win-win for employer and employees. With collaborative Robots coming into shop floor, Robots help humans to be more efficient and productive. With the introduction of 5G and adequate security technologies we can expect the operators to manage automation from anywhere in future. This will significantly improve employee satisfaction at the same time delivering required productivity to the businesses.
QUESTION
Robotics, Machine Vision, Industry 4.0, Artificial Intelligence, 5G, Blockchain, Quantum Computing – the number of technological advancements since ATI's start in 1989 seems dizzying these days. What is your advice to users on how to get started with automation and how to make sure they are staying abreast of all the latest developments?
ANSWER
I would go with "problem first" approach. My suggestion to shop floor managers is to not worry about technologies but clearly define the problems/ challenges they are facing and return on investment expectation from automation projects. It is up to the solution provider to identify and adopt the required technology to solve the problems, at the same time meet the return on investment requirements. If these 2 are not clearly defined then any technology however new and advanced it may be, will not make it to production. In our experience many of the projects stop at proof of concept (PoC) or pilot stages because these reasons. The transparency between shop floor managers and solution providers is key in the success of such new technologies.
QUESTION
With economists forecasting larger uses of robotics and automation, especially coming out of the COVID-19 landscape, this potentially means a lot of new customers – what would you tell business leaders about getting started with automation?
ANSWER
I would not advocate a big bang approach. Start small, identify one of your key processes to be automated which will deliver significant benefits for you. Define problem clearly, setup return on investment expectations and importantly identify a passionate shop floor manager to lead the project. Once this is done identify a solution provider who is ready to walk together with you in the automation journey. Deploy automation for this process, establish return on investment, go back to your management with this success with a phase wise automation plan without disrupting production. This will ensure that you will be making continuous progress in your automation journey.
QUESTION
While we all know downtime can help relieve stress, several science-backed studies confirm you actually improve productivity when you take time to enjoy life outside of the office. What are some of your favorite things to do in your free time?
ANSWER
I used to play badminton in my free time in the evenings. Unfortunately pandemic has not allowed me to do so for the past 2 years. During this pandemic I listen to music and watch action movies/ TV shows. One of my favorites has been Tom Clancy's Jack Ryan.