Thought Leaders in Automation
Leading The Way In Innovation
Learn from expert industry professionals and read their insight into
the growth and opportunities in automation.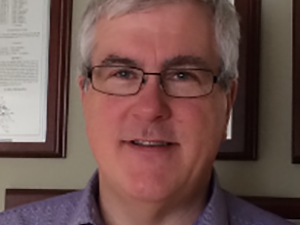 David Henderson
Founder & CEO
New Scale Robotics & New Scale Technologies

David Henderson is the founder & CEO of New Scale Robotics and New Scale Technologies. New Scale was founded in 2002 to create unique motion solutions that deliver the smallest size, highest precision, "plug-and-play" integration, and save time.
New Scale Robotics makes Q-Span Workstations which are agile automation tools for quality teams. Q-Span systems integrate smart gripper/calipers for PICK, MEASURE, RECORD and PLACE inspection processes for high-mix small-batch manufacturing. New Scale Technologies micro motion innovations include piezoelectric motors that move optics in mobile phone cameras and mechatronic motion modules (M3) for medical, industrial, and aerospace applications. All New Scale products are embedded solutions. David earned his BS in Mechanical Engineering at Carnegie Mellon University and holds an MBA from Tepper School of Business at Carnegie Mellon University.



QUESTION
David, why do you believe that quality has come of age and needs to be automated?
ANSWER
Complex manufacturing processes require tight process control to meet customer expectation for best quality, easy customization, short lead times and competitive prices. Today, thanks to Amazon, we all have these expectations. Quality control departments are struggling to keep up, especially if their company has high product mix and small batch sizes. Our research indicates that 10,000's of people stuck in dull, dirty or dangerous manual inspection jobs because automation is too expensive, inflexible, takes too long to deploy, and has insufficient return on investment (ROI).
Hard-tooled (fixed) robotic inspection for mass production is long established. For example, in 1961 George Engelberger installed the first Unimate robot at GM. But today most manufacturing requires flexible and agile automation for high-mix small-batch production. By some estimates up to 90 percent of quality processes are not served by traditional automation equipment suppliers and system integrators.
Agile automation addresses the needs of companies using manual labor by creating tools that can be installed and reconfigured by in-house manufacturing and quality control staff. Collaborative robots (Cobots) and smart end-of-arm-tooling are now available as plug-and-play systems. The role of system integrators is diminished. The work of quality teams is elevated.
QUESTION
You're a big believer in the Universal Robots Collaborative Robots platform. Why is that?
ANSWER
We integrate cobots from Universal Robots (UR) in our Q-Span inspection workstations. UR is the industry leader and has shipped more than 50,000 cobots.
UR cobots are disruptive and break traditional rules. They opened their API which allows us to create innovative plug-and-play tools. Cobots are speed and force limited and work safely next to people without safety guarding. Our gripper/calipers can be installed in minutes. Inspection processes are "taught" instead of programmed and seamlessly combine robot and gripper/caliper sequences. The "app store" called UR+ promotes robot accessories that are fully engineered and certified. UR also promotes certified application kits that accelerate adoption by small manufacturers and include fully coded software and example hardware configurations. UR has also created online courses and a global knowledge base through their web portal. Education is URs next big target, and we are working together to promote a cobot metrology curriculum. There are over a hundred companies manufacturing cobots today but UR's continued leadership makes them our essential partner.
QUESTION
New Scale Robotics (NSR) is a relatively new company but you've been in the technology space since 2002 with New Scale Technologies (NST). What led you to create NSR and what do you see as the direction for the robotics space for your company?
ANSWER
NST is our established business, and we manufacture embedded motion modules that fit on your fingertips. Our smallest modules focus the camera inside your smart phone. Slightly larger modules move optics in medical, industrial, and aerospace instruments. Inside each module are patented piezoelectric motors, sensors, mechanisms, drive electronics, microprocessor with embedded closed-loop firmware, and digital I/O.
NSR products are a natural extension of our smart mechatronics and software integration skills. We created larger motion modules (gripper/calipers) that plugs-and-plays with UR cobots. We naturally "think small" and created a gripper/caliper with sub-micrometer precision which is small enough for three to fit the smallest UR3e cobot.
QUESTION
What challenges has New Scale Robotics faced during Covid19 pandemic and what are some of the things you've done differently at NSR to mitigate the effects on your company and your employees?
ANSWER
Our company is in upstate NY so we immediately felt the urgency of the crisis in NYC. After a few days of complete shut down we were certified an essential business due to our medical device production. This allowed our production staff to keep working in our facility while the rest worked from home. We follow all state guidelines for COVID restrictions and safeguards. I am proud to say that, with the help of PPP, we have been able to retain all our staff during the past year and kept COVID out. I am so grateful for our team and their perseverance during this crisis as we overcame the stress, fear and isolation. As vaccinations increase, we are returning to the office. Quarterly revenue has been volatile, but the trend is increasing. NSR launched Q-Span Workstations in December 2019. So, we have lost a year of in-person business development. Virtual marketing and sales have been very challenging and we look forward to opening up in 2021.
QUESTION
Innovation is very much an overused term however given the challenges of the past year companies have been forced to innovate. What are your thoughts on innovation?
ANSWER
We are facing many challenges due to COVID and all the ripple effects. Innovation starts with understanding the challenges we face. Innovation progresses from creative ideas grounded in our skills and experience. Innovation becomes real when we execute on new ideas to achieve measurable gain in our company. Our team has responded magnificently in the past year with creativity and purpose to innovate our business. This innovation includes working effectively at home, staying safe at in the office, embracing digital marketing tools, developing a new smart stage for medical instruments, patenting new actuators and digital control methods.
QUESTION
What groups, association or business community activities have you been involved in and how do you see those being of benefit to business owners?
ANSWER
We strive to be a flexible and people-oriented company. Everyone's contributions are critical, and a healthy work-life balance sustains our team's performance. As a company we support United Way, a local food cupboard, and a program that finds homes for families. For 15 years I have been a mentor for FIRST Robotics. Each year the student's computer skills grow, the tools get better, and the more I learn. Working with high school students illuminates the future of technology, automation, and robotics in our work. Our students are designing robots with computers, digitally making parts, and writing complex autonomous programs. These are our future customers.
QUESTION
What are your thoughts on innovation for the robot industry?
ANSWER
Cobots enable incremental agile automation that balances the best work of humans and automation. Balance means finding the "goldilocks" zone where robots elevate human work. This is the point of maximum productivity and innovation. Over time technology advancements will shift the balance point towards more automation.
NSR's Q-Span Workstations use robots to complete dull, repetitive error-prone tasks including individual part handling and measurement. Quality Technicians teach, configure, and manage the robotic workstation, organize trays of parts for presentation and removal, and deal with the unexpected. Q-Span measurements achieve superior Gage R&R. The technician's job is elevated with greater skills engagement and retention.
QUESTION
How can people get in touch with you and find out more about Q-Span Cobotic Workstations?
ANSWER
The best way to get in contact is through email and you can visit our website.